Welcome to the Shuffle! Wiki
Heroines of Shuffle!
This is a wiki for the visual novel/anime Shuffle! that follows the romantic life of Rin Tsuchimi, a high schooler, who finds himself being sought after by a variety of girls. This wiki allows anyone to edit or improve the articles published. So far, we have 68 articles to edit!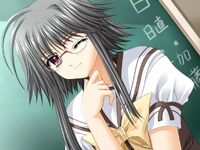 Mayumi Thyme is a heterochromia-eyed girl, who is in Rin's class, good friends with Kaede and is always looking for news.
---
She has the smallest bust size in the series, a fact often made fun of by Rin and Itsuki. Nonetheless, she takes pride in her small breasts.

Main article: Mayumi Thyme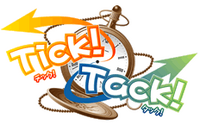 Tick! Tack! is the second eroge visual novel in the Shuffle! series created by Navel.
---
The game is a continuation of Nerine's route, which involves changing the future of who Nerine's mother will be.

Main article: Tick! Tack!
Did you know.....?
....that Shuffle! was Navel's first visual novel?
....the characters are named after flowers and plants and many of their birthdays also match the birth flowers?
....that Shuffle was featured in the 3D virtual world " Ai Sp@ce"?
....Shuffle!, Tick! Tack!, and Really? Really! have all been released in English?
News
The Shuffle! spin-off, Really? Really! was released June 6, 2014 in English. You can support MangaGamer by buying the game at here.
Just So You Know...
Warning: This wiki contains spoilers within the Shuffle! series.
Handy Links
Poll
Who is your favorite Shuffle! girl?
Latest activity