Welcome to the Shuffle Wiki!
The wiki is for the visual novel and anime that follows the romantic life of Rin Tsuchimi who finds himself being sought after by a variety of girls and everything else related to the Shuffle! series.

---
There are 131 articles and growing since this wiki was founded in January 2010. The Shuffle Wiki format allows anyone to create or edit articles, so we can all work together to create a comprehensive database for the Shuffle! series. If you have any problems or questions, feel free to contact me.

Nerine (

ネリネ

Nerine

? ) is a main character in the Shuffle! series. She is the only daughter of the Forbesii and Sage. Like Lisianthus, her childhood memories with Rin have brought her to the Human world. She is in the same homeroom as Rin at Verbena Academy.
---
She is a red-eyed girl with waist-length blue hair with a beautiful singing voice dubbed as the Angel's Bell.

Main article: Nerine
Really? Really! is the third installment of the Shuffle! series. It has been translated into English as of 2014.
---
It is a continuation of Kaede's path from the first Shuffle! visual novel.

Main article: Really? Really!
News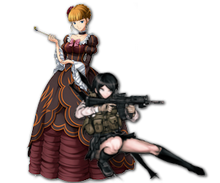 Featured Articles
Did you know.....?
....that Shuffle! was Navel's first visual novel and the 3rd best selling visual novel of 2004 in Japan?
....the characters are named after flowers and plants and many of their birthdays also match the birth flowers?
....that there was supposed to be a bonus spinoff for Shuffle! Essence+ entitled, "Princess Princess" which focused on Lisianthus and Kikyou's route with Rin that was cancelled?
....Shuffle!, Tick! Tack!, and Really? Really! have all been released in English?
Extended Links
Official Twitter